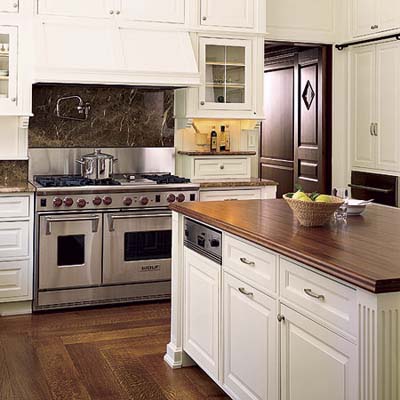 Everyone knows and it is quite obvious that the kitchen is not only an important part of the house but it is also one of the most utilized rooms. Having a spacious kitchen is always ideal and it can also increase your home value.
Unfortunately,a lot of homeowners often overlook this key detail. Cluttered and disorganized kitchens with cramped spaces are common, which can hinder efficiency when cooking for your loved ones or when entertaining friends. So what can you do to free up your kitchen space?
Hang It High
Going vertical can give you more space and options most especially when it comes to long-handled pots, pans, and other utensils. Use your longest-handled pan as a guide and install a rack high enough above your head.
More: Make Your Home Look Bigger w/ These Paint Tricks!
Shelve It for Later
Counters and cabinets don't have to do all of the storage work. Nesting shelving in windows or even on surrounding back splashes and walls can be a great solution.
Play All the Angles
Corners are often wasted space, often consumed by knife wood blocks. You might install corner shelving, or even place a magnetic knife strip near a convenient corner.
More: Create a Garden Your Kids Will Love
Save the Sink Space
Seldom are you using the sink while you're prepping veggies, so why not get a large cutting board and lay it across the surface? This way, you turn a sink into a temporary counter.
See the Studs
Open up a wall or two in your kitchen to access the recessed space between studs. Subdividing this space with shelves or hanging hooks can be a space saver. Properly finished, it doesn't have to look like an eyesore!
More: Special Marketing Tips for Home Sellers
Of course, if no amount of clever hacks will open up your kitchen, it may be time to upgrade. I can put together a list of local homes with killer kitchens for you. Don't hesitate to contact me!
Sean Blanchette
(703) 371-5710
Sean@FrontDoorHomes.com
 Northern Virginia Properties: